Things to Know
At Skylon we take pride in the puppies we have so carefully planned for and lovingly raised. We have very high standards for our prospective owners and we expect you have the same for us, your breeder.
We hope you have done your research and are aware of the care and maintenance required for a Golden Retriever. Golden Retrievers are predisposed to certain health problems. As responsible breeders we have x-rayed all our breeding dogs for Hip Displasia, all have had heart clearances & all are examined yearly for eye clearances. As well, we now do DNA testing for all the males offered at public stud for PRA & PRA 1 & Ichthysosis. All in all, we have made effort to provide our clients with beautiful, healthy representatives of the breed and if problems do arise we stand behind our puppies!
Your puppy MUST be a full time house dog and family member. We feel it is important to stay in contact throughout your dog's life. If for any reason you are unable to keep your dog it MUST be returned to Skylon.
A good puppy is worth waiting for. Be prepared to wait 4 - 6 months for that special puppy. In most cases, our puppies are reserved well in advance of a planned breeding. In order to be considered for one of our puppies it is first required that our
puppy questionnaire
: on line be completed and submitted. Once the application is approved we will arrange for a visit (or phone visit) to meet your family and give you the opportunity to meet with ours. Upon final approval, we require a $500.00 deposit (Non-Refundable) to reserve your puppy. Once a deposit is received, information will be emailed out regarding the food that should be ordered prior to pick up of your new addition.
What happens next?
We wait for the arrival of the puppies. Once the puppies are born I can determine what is available and confirm your reservation and supply regular pictures so you can watch as your puppy grows. At approximately 6 weeks if age, weather permitting, I plan a puppy visit for the new owners and the puppies. At this time I watch how the puppies interact and take suggestions on preferences from potential owners.
We choose your puppy for you.
After years of experience and many hours spent interacting with the puppies before they go, we feel we are the best judge of which puppy is best suited for your family. Puppies are for life, which is why we want to choose a puppy that will best suit the needs of it's family and vice versa. Your limited interaction with the litter will not give you enough time or information to make an educated decision on which puppy would best suit your lifestyle. We carefully pair puppies with their new owners based on your puppy questionnaire, your interview, your visit, and the puppy's personality.
Puppies will receive their first vaccines and be tattooed at 6 - 9 weeks. By this time they will have been dewormed several times. They will start leaving for their new homes the weekend following their 7th to 9th week birthday. (depending on the maturity of the particular litter). Appointments are arranged for pick up so we can go over the contents of the puppy package, sign paperwork and ask any final questions.
It doesn't stop there. I encourage correspondence on a regular basis and I really encourage new owners to ask my advice on any issues that might come up over the next 15 years :)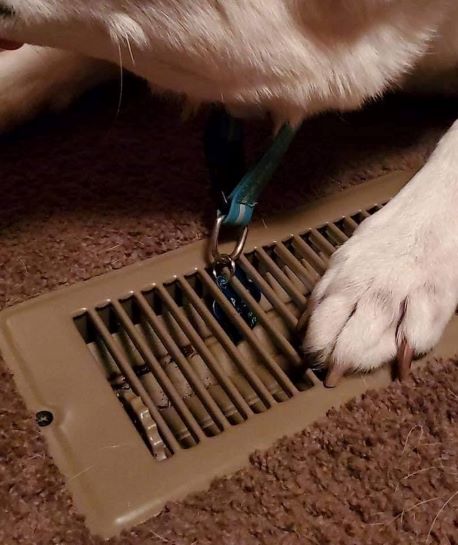 NEVER KEEP A COLLAR ON A DOG IF IT ISN'T ATTACHED TO THE LEASH!!